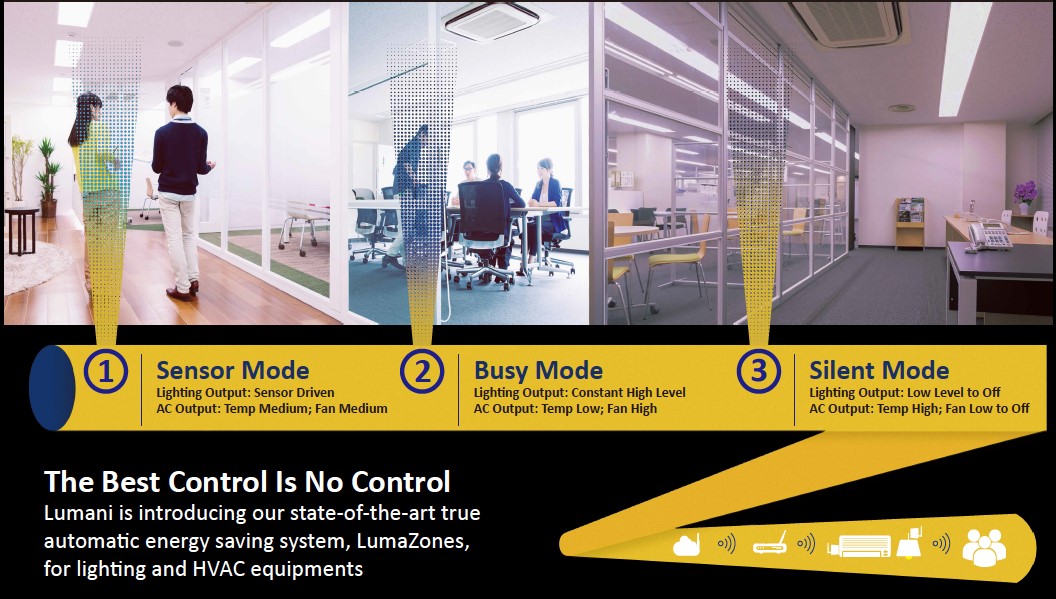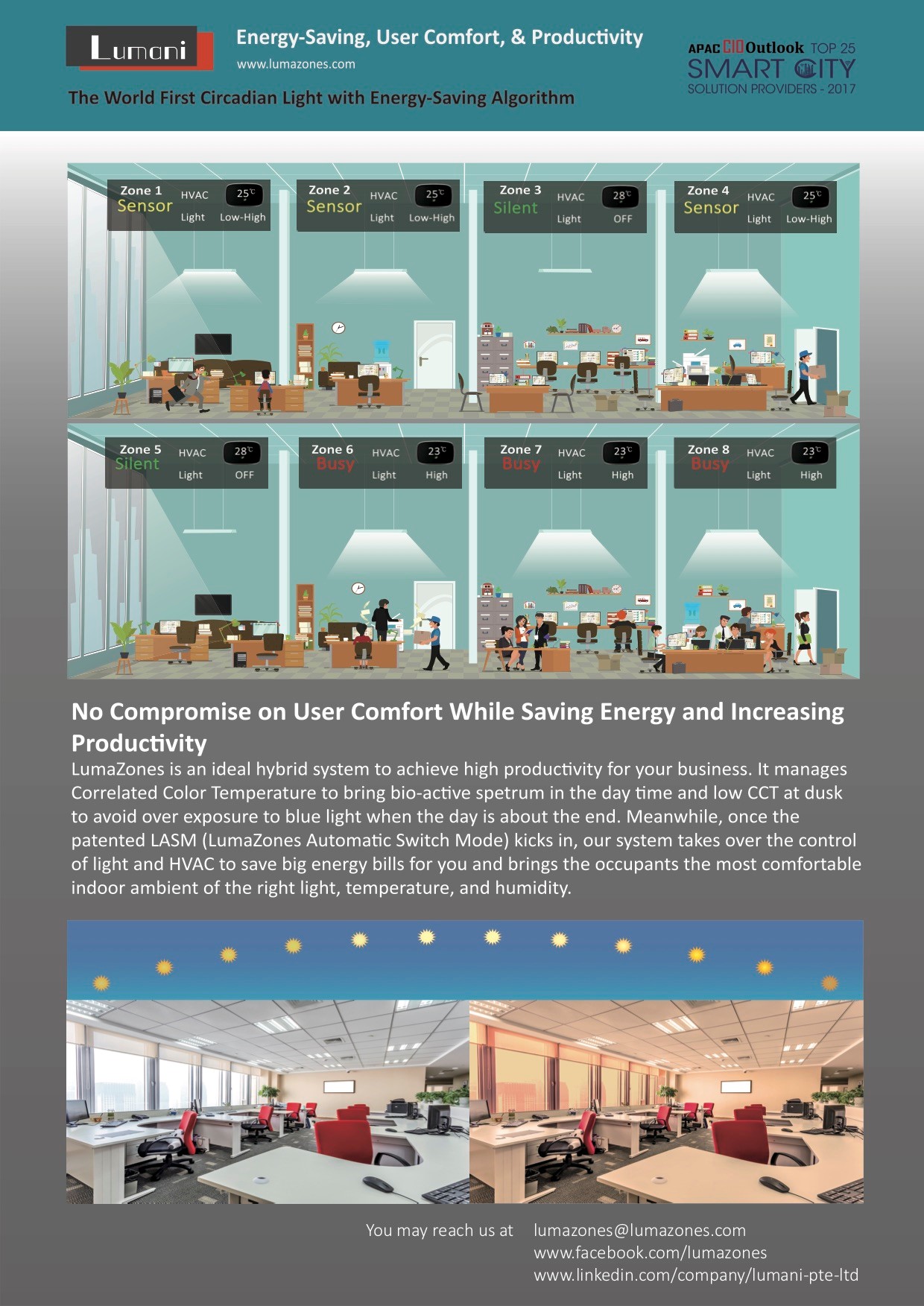 Autonomous Lighting and Air-con Management System
Technology Category:

Controls and Operations
Technology Supplier:

Lumani Pte Ltd
Originated From:

SINGAPORE
Suitability in Existing Building/New Development:

Existing Building , New Development
Suitability Climate Zones

Hot and humid , Hot and dry , Others
Last Update Date

03/19/2019 10:48:50
Technology Keywords

Smart Office, Smart Lighting, Smart Thermostat, Smart Retail, Autonomous Light & Air-Con, Productivity, Health, Well-Being, Occupants Comfort, Light & Air-Con Energy Savings, Green Building, Placemaking
Technology Description

Lumani patented autonomous operation of Lighting & Air-Con allows commercial properties owners to go beyond zero carbon emission by coupling energy savings, productivity and occupants' health on LumaZones; an open IoT platform. This technology uses advanced AI with unique instant error recovery and user pattern correction mechanism; relieving facilities managers' challenge to analyse energy reports and take action to save energy while ensuring occupants comfort as LumaZones perform these tasks autonomously round the clock.




LumaZones is a very powerful platform that is beyond IoT; we can morph into a smart application interface that allows energy utility companies and conglomerates to fetch data and tweak the loading with human centric HVAC and Lighting on building level or even grid level to provide a balanced power loading. With LumaZones highly scalable and powerful platform, we can start from a room or an office, to a building and eventually a district to achieve this vision. So the organisations can raise their profit and save our planet at the same time.




Our US patented technology is known as Automatic Switch Mode where commercial spaces are divided into a zones to allow pockets of saving base on activity level of the zone. At any one time, different zones will have different activity. By introducing a low activity concept, we allow further savings of 6-10% for Air-Con by ensuring the temperature set point of the zone is increase by 1 or 2 degrees so that energy can be saved and the occupants do not feel too cold. In addition, we have very advanced dimming technology to allow our lights to be able to be installed in applications like offices without causing discomfort to the occupants.

We have also introduced the world's first circadian light with energy saving algorithm for companies who believe in productivity and value the health of their employees.




We offer the best in price performance for efficient Light and Air-con energy management. Even after installing LED & Highly efficient Chiller, we still can save up to 30% light & HVAC energy using AI that reduces unnecessary energy wastage.




Estimated Life Time

3 years
Estimated Lead Time

1 month
Technology Features

LumaZones poll the zones every 10 minutes and adjust the light and Air-con to suit the requirement of the zone. In this way, unnecessary light & air-con energy waste can be reduced substantially with this dynamic response.
Technology Implementation and Best Practices
Design:
1. Proper Zoning to maximise possible savings.
Deployment:
1. Good quality LED drivers and lighting.
2. Good Internet connection.
Operation:
1. Do not switch off the wall switch as system will revert into manual mode.
2. Leave the scenario fine tuning to LumaZones to ensure all zones that have possible savings can be achieved.
3. Ensure good internet connectivity
Maintenance:
1. Ensure Annual Cloud Service Subscription is in place.
Technology Advantages

Zones based automatic switch mode technology that track activity level to allow possible light & Air-Con savings at all times. Save even when there are occupants – not just an Off/On function.
Technology Limitation

1. Works on DC input Dimmable LED Lights only.
2. For Air-Con 1) only support Most Multi-Split System, VRV & VRF Air-con and thermostat type, for central HVAC, the application of this solution is subject to integration with BMS.
Cost and Benefit Analysis




1. Typical LED will have at least 50% savings compared with fluorescent lights.

2.

For Air-con: Most do not use temperature (return air) as measurement.




3. Up to 30% savings from LED & Air-con as system is based on activity level of zones.

Since lighting efficacy determine by the lux level and input power, we will provide the following measurement and monitoring to determine baseline and record power consumption after installation of Lumani lighting control system,

Phase I - Power Meters to be installed at DB of L5 and L6. Fluorescent Lights to be replaced with LED Fluorescent Lights – Lighting Power Budget to be prepared for this portion so as to ensure GM compliance as well as calculation of EEI and energy savings. This will be confirmed with power usage data taken off power meters installed at DB.
1. Spot measurement sampling of lux level at office area
2. Installation of high accuracy power meter to monitor and record current lighting power consumption and demand
3. All the power meter will be connected to a monitoring system (by DG Control)
4. 2 week power measurement data in 1 minute interval will be collected for the baseline

Phase II – Savings of control will be verified via the calculation of the lighting smart control 'software'. This result will be matched with the additional power consumption data to be retrieved via the installed power meters. (result to be compared to power usage after LED installation) Lighting Lumens will be measured against the controlled lightings.

1. Spot measurement sampling of lux level at office area
2. Installation of high accuracy power meter to monitor and record current lighting power consumption and demand
3. All the power meter will be connected to a monitoring system (by DG Control)
4. 2 week power measurement data in 1 minute interval will be collected for the baseline
5. Upon the installation of the Lumani lighting control system, sampling of lux level measurement will be taken to ensure lighting level is between 300 to 500.
6. Continue lighting power consumption recording in 1 minute interval and collect data for 2 years
7. Perform the saving calculation and analysis, and submit report