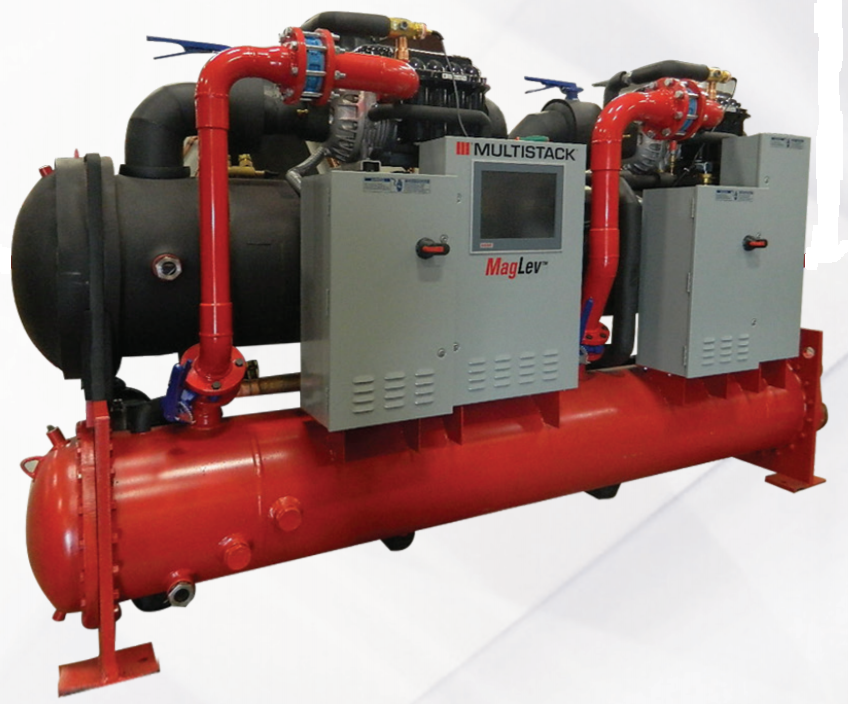 Multistack MagLev Multiple Oil Free Compressor Flooded Chiller MTW300FC
Technology Category:

ACMV
Technology Supplier:

Multistack Equipment (SEA) Pte Ltd
Originated From:

AUSTRALIA
Suitability in Existing Building/New Development:

Existing Building , New Development
Suitability Climate Zones

Hot and humid , Hot and dry
Last Update Date

09/05/2018 07:56:57
Technology Keywords

MagLev Multiple Oil Free Compressor Flooded Chiller, Magnetic Bearing Centrifugal Chiller
Technology Description

Multistack MagLev Multiple Oil Free Compressor Flooded Chiller
Model : MTW300FC
- Nominal Cooling Capacity : 300RT
- Refrigerant : R134a
- Compressor- 2 x Oil Free Centrifugal With VSD Feature
- Control : MV7 Plus
- c/w active harmonic filter, THD < 5%, IEEE compliant
- Part Load Range : 100% ~ 20%
- Flow Rate Range : 100% ~ 60%
- Unit Dimension : 4350 x 980 x 2100 (L x W x H) mm

Estimated Life Time

15 years
Estimated Lead Time

1 month
Technology Features

1 . Multiple compressor concept (2 Nos) - the chiller still remain in operation if one of the compressors malfunction.
2 . Oil free compressor - sustainable chiller efficiency, no oil changed annually and save maintenance cost.
3 . Built in VSD - power saving during the part-load operation without hot gas bypass.
4 . Starting ampere as low as 2 amp with built-in soft starter
5 . Environmental friendly refrigerant R134a used.
6 . AHRI Certified.
7 . Made In China

Technology Advantages

Multistack's MagLev product lines utilize oil-free compressor technology to provide solutions that have superior part-load efficiency, incredible turn-down ability, and minimal required maintenance. Multistack has be applying MagLev compressors to different product lines for over fifteen years and has the most experience and the most robust product offering in the industry. FlexSys, Multistack's proprietary control system, ensures both water cooled and air cooled MagLev offerings are more efficient, reliable, and customizable than anything else on the market. Maglev chillers range from 60-1400 tons on the water cooled side and 60-300 tons on the air cooled side.
Technology Limitation

-
Cost and Benefit Analysis

Annual Shutdown
- Included tube cleaning & water quality test.


- Unit Price : S$ 1,000



Certifications and Awards

AHRI Certified.