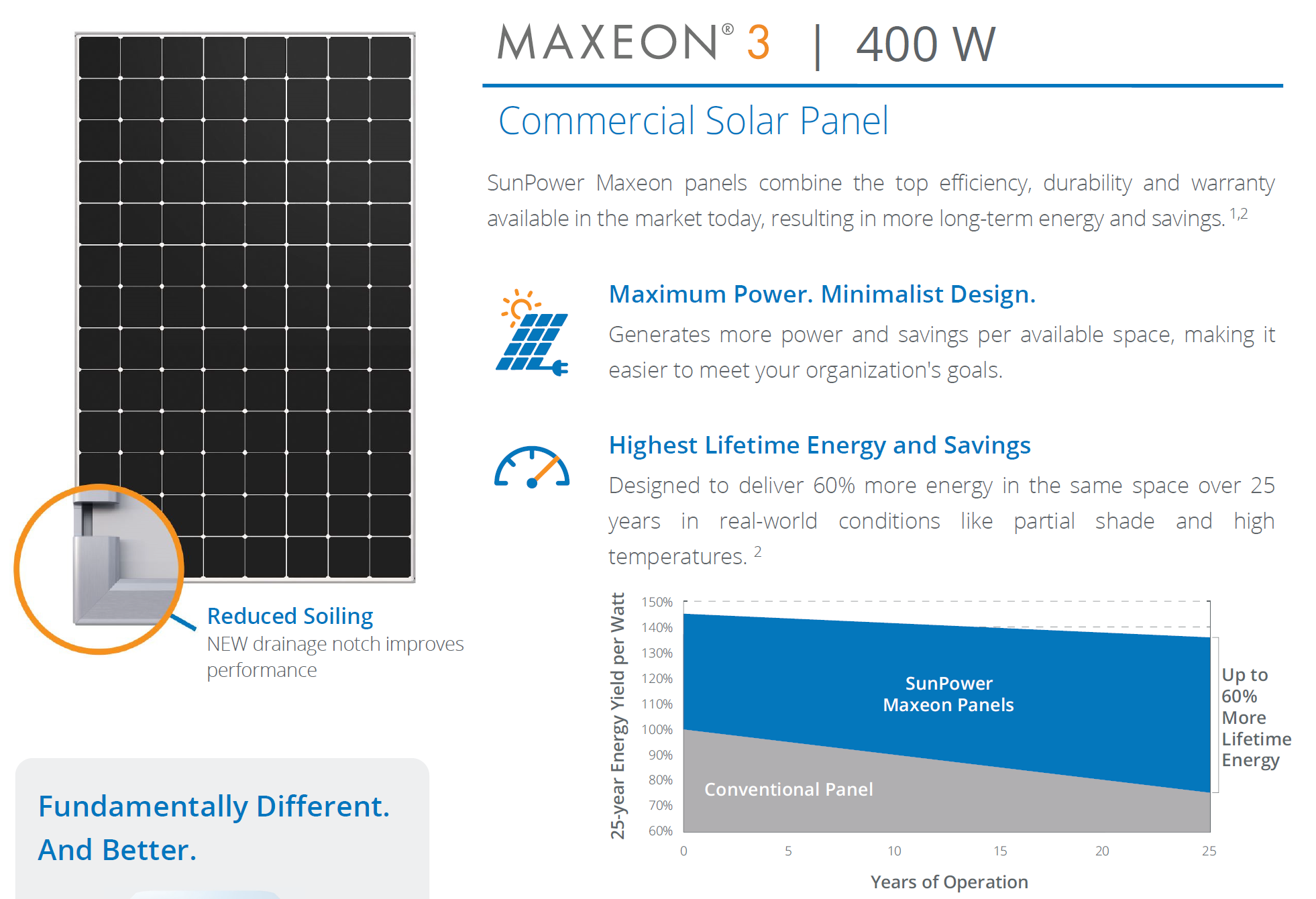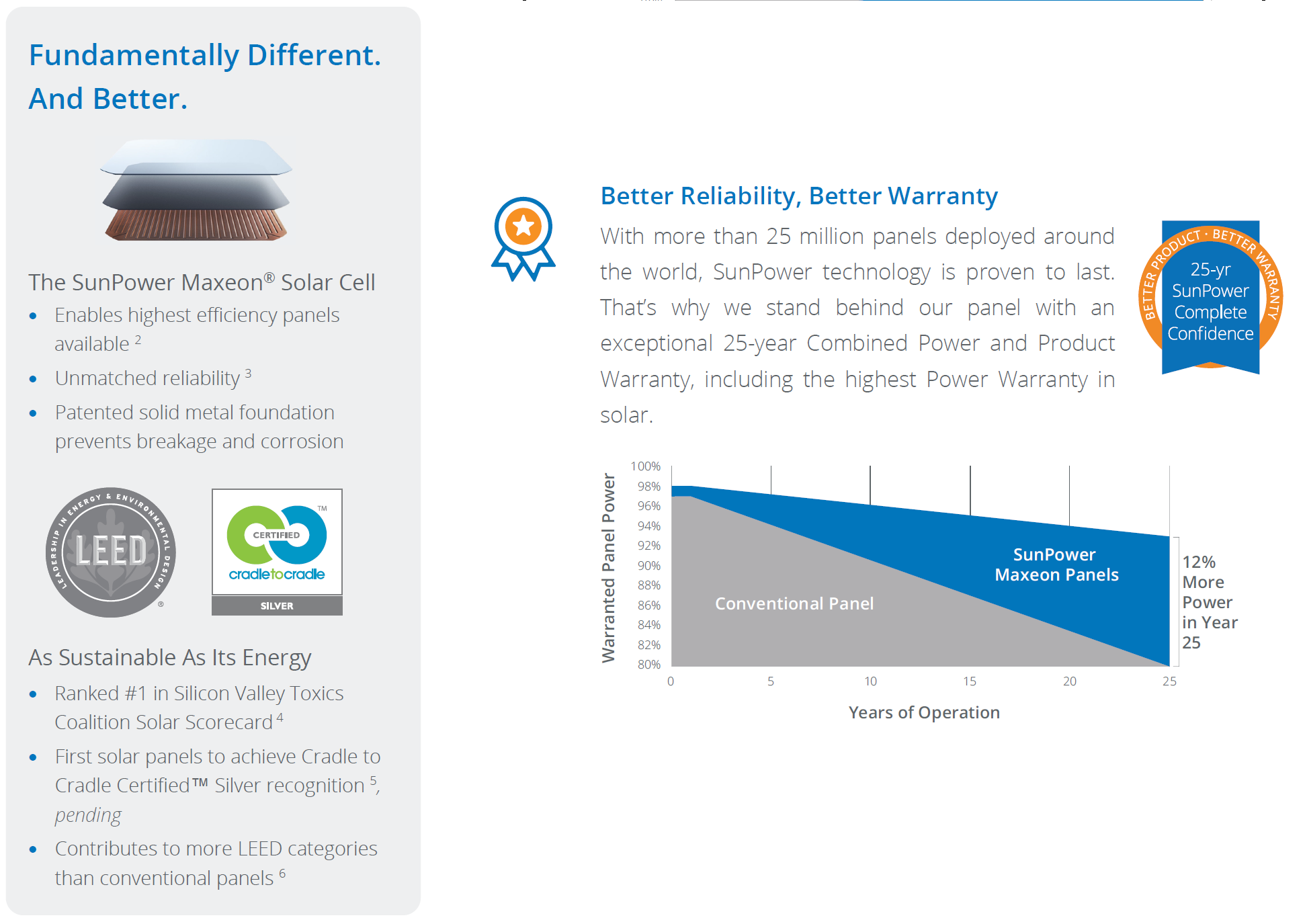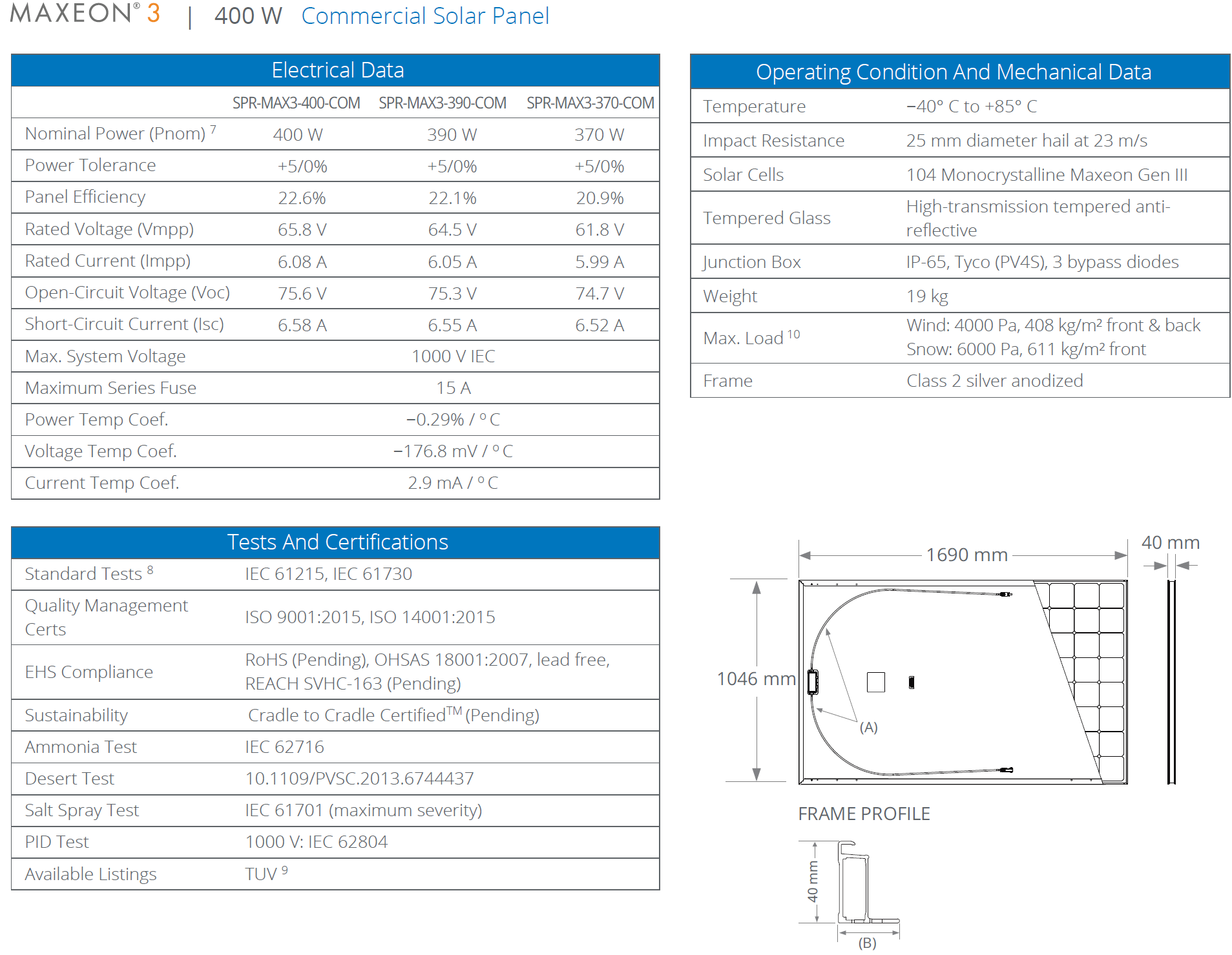 MEXEON 400W Commercial Solar Panel
Technology Category:

Energy Generation and Storage
Technology Supplier:

SunPower
Originated From:

AUSTRALIA
Suitability in Existing Building/New Development:

Existing Building , New Development
Suitability Climate Zones

Hot and humid , Hot and dry
Last Update Date

04/15/2019 16:39:43
Technology Keywords

Energy Efficient, Energy Generating, Clear Glass Windows
Technology Description

SunPower Maxeon panels combine the top efficiency, durability and warranty available in the market today, resulting in more long-term energy and savings.



Estimated Life Time

20 years
Estimated Lead Time

3 month
Technology Features

1 SunPower 400 W, 22.6% efficient, compared to a Conventional Panel on same-sized arrays (260 W, 16% efficient, approx. 1.6 m²), 7% more energy per watt (based on PVSyst pan files for avg EU climate), 0.5%/yr slower degradation rate (Jordan, et. al. "Robust PV Degradation Methodology and Application." PVSC 2018).
2 DNV "SunPower Shading Study," 2013. Compared to a conventional front contact panel.
3 #1 rank in "Fraunhofer PV Durability Initiative for Solar Modules: Part 3". PVTech Power Magazine, 2015.
4 SunPower is rated #1 on Silicon Valley Toxics Coalition's Solar Scorecard.
5 Cradle to Cradle Certified is a multi-attribute certification program that assesses products and materials for safety to human and environmental health, design for future use cycles, and sustainable manufacturing.
6 Maxeon2 and Maxeon3 panels additionally contribute to LEED Materials and Resources credit categories.
7 Standard Test Conditions (1000 W/m² irradiance, AM 1.5, 25° C). NREL calibration Standard: SOMS current, LACCS FF and Voltage.
8 Class C fire rating per IEC 61730.
9 Also certified under names SPR-XYY-XXX.
10 Calculated with a 1.5 Safety Factor.





Technology Advantages

-Generates more power and savings per available space, making it easier to meet your organization's goals.

-Designed to deliver 60% more energy in the same space over 25 years in real-world conditions like partial shade and high temperatures.

-With more than 25 million panels deployed around the world, SunPower technology is proven to last. That's why we stand behind our panel with an exceptional 25-year Combined Power and Product Warranty, including the highest Power Warranty in solar.









Technology Limitation

NA
Certifications and Awards

The SunPower Maxeon® Solar Cell
 Enables highest efficiency panels available 2
 Unmatched reliability 3


 Patented solid metal foundation prevents breakage and corrosion

As Sustainable As Its Energy
 Ranked #1 in Silicon Valley Toxics Coalition Solar Scorecard 4
 First solar panels to achieve Cradle to Cradle Certified™ Silver recognition 5, pending
 Contributes to more LEED categories than conventional panels