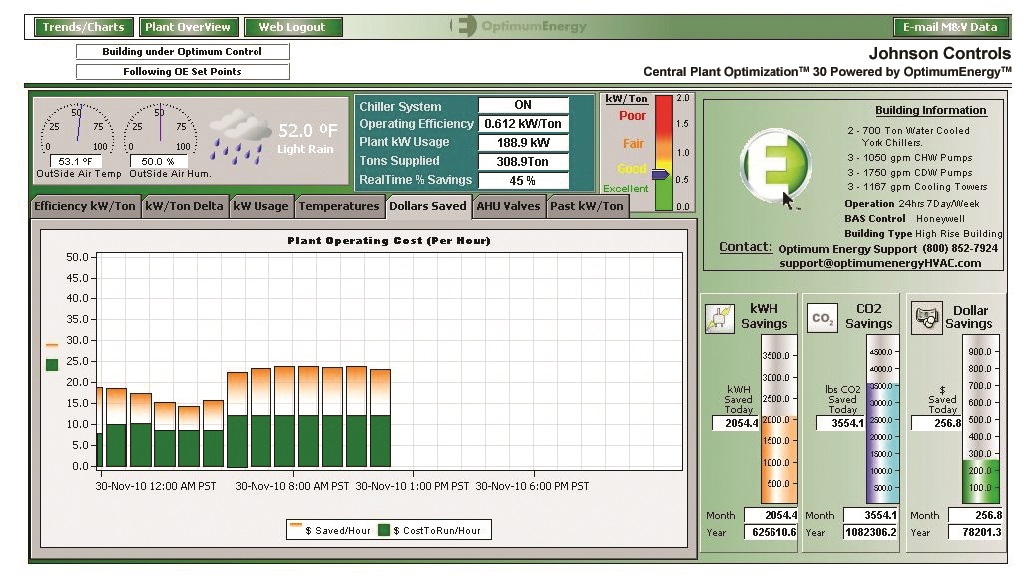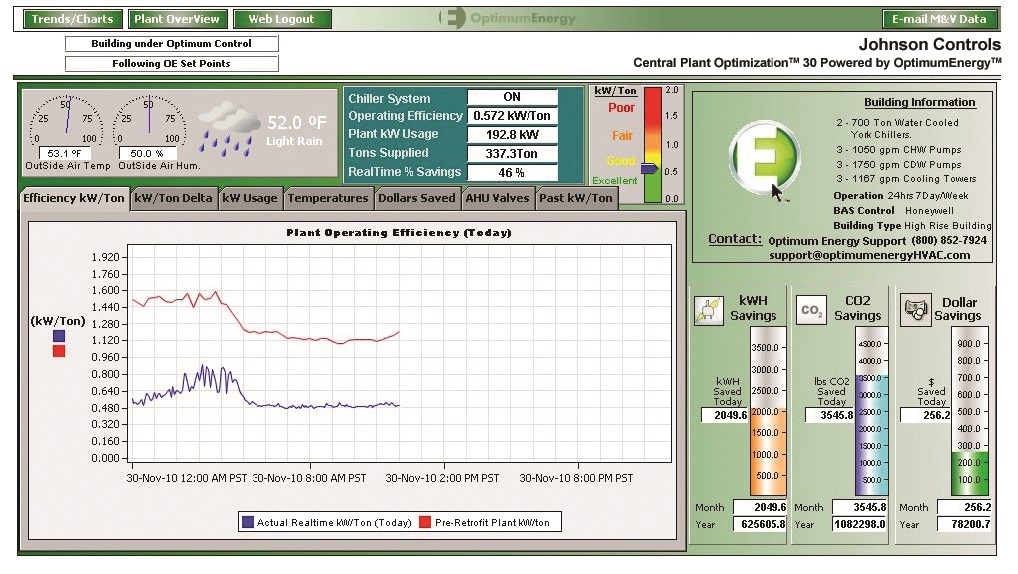 Johnson Controls Chiller Plant Optimization
Technology Category:

Controls and Operations
Technology Supplier:

Johnson Controls (S) Pte Ltd
Originated From:

AMERICAN
Suitability in Existing Building/New Development:

Existing Building , New Development
Suitability Climate Zones

Hot and humid , Hot and dry
Last Update Date

03/24/2019 22:05:37
Technology Keywords

chiller plant optimization, energy efficiency, sustainability chilled water plant
Technology Description

More than 35% of the power required to run your building is consumed in one place: the central chilled water plant. So if you can improve the efficiency of your central plant, then you can better manage energy usage, reduce the environmental impact and save money for your total facility. Installing high-efficiency YORK chillers and components is an ideal way to start saving energy. But that can only take you so far. Because even the most energy efficient chiller plant requires an automation system and a holistic optimization platform to reach maximum efficiency.
- Central Plant Optimization 10 (CPO 10) can help your chiller plant consistently perform at its peak efficiency potential, delivering up to 15% in energy savings.
- CPO 30 uses innovative control technology to reduce central plant energy consumption by 20 to 60%. This will ensure that you realize the potential that your equipment and systems are designed to achieve.

Estimated Life Time

15 years
Estimated Lead Time

1 month
Technology Features
Technology Advantages

Whether you're installing a brand new central plant with the latest in innovative HVAC systems or retrofitting a dusty old one, Johnson Controls has the automation software to optimize performance and savings. Central Plant Optimization™ 10 (CPO 10) software is powered by Metasys to achieve energy savings up to 15%. It leverages Johnson Controls global expertise in building management systems and chiller technology. Plus, it incorporates best-in-class practices from world class chiller plants to deliver optimization solutions for thousands of plant configurations. And with Metasys add-ons, Ready Access Portal and Energy Essentials, you get real-time plant performance monitoring and periodic energy reporting, Central Plant Optimization™ 30 (CPO 30) powered by OptimumEnergy™ allows you to operate your central plant at its most efficient level. The patented, innovative software algorithms make real-time automatic adjustments to the system based on real-time building loads. This results in 20 to 60% in energy savings. CPO 30 works best with all variable speed plant designs. Web-based, real-time dashboards enable you to efficiently measure, verify and manage your plant's performance. And you get invaluable troubleshooting tools to determine why performance isn't up to par.
Technology Limitation

Equipment price and energy efficiency depends on capacity and operating conditions.
Cost and Benefit Analysis

Potential energy savings depends on design or existing conditions.