Mitigating Airborne Infection Transmission With HVAC Systems
From ASHRAE Journal Newsletter, March 24, 2020
Much is still unknown about the transmission of SARS-CoV-2—the virus that causes COVID-19. A recent National Institute of Health study analyzed the virus' stability in aerosols and on surfaces. Researchers found the virus remained variable in aerosols for hours and also found the virus was more stable on plastic and stainless than on copper and cardboard. More studies need to be done to understand how it behaves when airborne.
From airflow paths to where supply air and exhaust air are located in hospitals, ASHRAE Journal has addressed best practices for improving ventilation systems in health care environments.
The airflow path matters because air is the primary carrier of heat, moisture, contaminant, and airborne particulates in buildings, including health-care facilities, said Kishor Khankari, Ph.D., Fellow ASHRAE, president at AnSight LLC in Ann Arbor, Mich.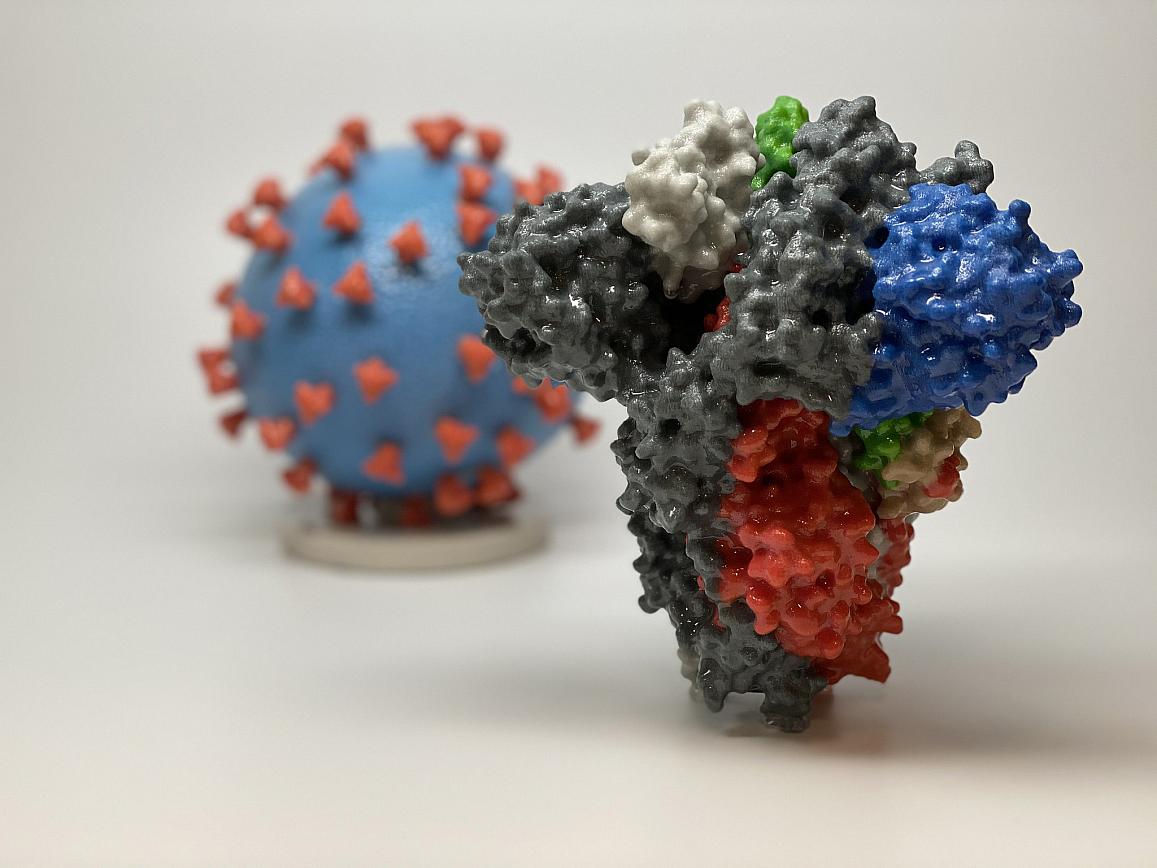 A 3D print of a spike protein of SARS-CoV-2—the virus that causes COVID-19—is shown in front of a 3D print of a SARS-CoV-2 virus particle. Credit: NIH
"Air takes the path of least resistance," said Khankari, whose article "Patient Room HVAC: Airflow Path Matters" from the June 2016 ASHRAE Journal addresses how computational fluid dynamics analysis demonstrates the importance of the location of a return in a patient room.
"While designing the patient isolation zones it is important to understand the airflow patterns," he said. "Ideally the supply air should sweep the patients and exit through return grilles without recirculation."
The risk of virus diffusion mainly depends on airflow behavior and changes in direction caused by supply air and exhaust air locations in hospitals, said Jinkyun Cho, Associate Member ASHRAE and a professor at Hanbat National University in South Korea.
Cho's "Improved Ventilation System for Removal of Airborne Contamination in Airborne Infectious Isolation Rooms" from the February 2019 ASHRAE Journal presents technical information on how to operate and use healthcare services in negative pressure isolation rooms to prevent the spread of viruses depending on ventilation systems-related factors.
The article, which is practice-based learning in a real hospital build project, evaluates the ventilation performance of three strategies in the protection of health-care workers and HVAC control for airborne infectious diseases induced by contaminated exhaled air from patients in a negative pressure isolation room. The study examines airflow path and airborne pollutant distribution by computational fluid dynamics modeling and field measurement.
"An improved isolation room ventilation strategy has been suggested and is found to be the most efficient in removing contaminants based on the observations and simulation results from three ventilation systems," said Cho. "The results show that ventilation systems utilizing the 'low-level extraction' technique are very effective at removing pollutants in the human breathing zone."
Cho said a new clean isolation room ventilation strategy has been developed that uses exhaust air grilles on the wall behind the bed at low floor level and has the highest pollutant removal efficiency.
Understanding the history of health-care ventilation, including the fundamentals, where and how HVAC provides value and, more importantly, where it does not, have never been more important, said Travis English, P.Eng., Member ASHRAE.
"We need to use HVAC systems to provide protections where they matter, while patiently and kindly dispelling those myths that would send emergency resources down unproductive pathways," said English, the national director of engineering and chief design engineer for Kaiser Permanente.
He said he has talked with lots of hospitals recently about pressures, filters, air changes, droplet-borne and airborne diseases. The hospitals have limited resources and want the right things, said English, who wrote "A Brief History of Health-Care Ventilation," published in the June 2016 ASHRAE Journal. The article provides a brief history of ventilation rates and concludes that using air change rates instead of ventilation rates per person is hindering the adoption of proven indoor air quality technology, most notably demand-control ventilation.
ASHRAE engineers also need to understand the basis and limitations of the design ventilation rates they use, said Jovan Pantelic, Ph.D., Associate Member ASHRAE, a researcher at the University of California Berkeley.
"I believe that it is essential to keep design engineers informed about advancements in the field that have the potential of making designs more efficient. To take a new step in the right direction, we need all the support from the design community because, in a pandemic situation like we currently have, we can truly appreciate the importance of the infection control," said Pantelic, whose article "IEQ Applications: Designing for Airborne Infection Control" ran in the July 2019 ASHRAE Journal. Pantelic's article reviews ASHRAE's HVAC Design Manual for Hospital and Clinics and HVAC from the perspective of infectious source strength and air change rate, which is one of the key parameters in healthcare design.
He said some aspects of airborne infection control have to be an integral part of ventilation design for commercial buildings, and now is the perfect time to think beyond ventilation for comfort.
Kevin Grosskopf, Ph.D, a professor at the University of Nebraska–Lincoln, said facility design and management professionals will need to rely on the science and standards that have prepared them for this pandemic.
"While COVID-19 is almost certainly droplet-transmittable and potentially airborne, creating physical air barriers and negative pressure containment zones will be paramount to reduce health-care-acquired disease," he said.
Attention must also be given to containment zone entrance and egress procedures to avoid potential transport of contaminated air across containment boundaries, said Grosskopf, whose "Bioaerosols in Health-Care Environments" article ran in the August 2014 ASHRAE Journal. His article discusses a series of tests that were conducted in an actual hospital to observe containment and removal of synthetic respiratory aerosols with respect to directional airflow and air change rate within a general patient room, an airborne infection isolation room and a patient corridor.
Designing and Operating High-Performing Healthcare HVAC Systems
In addition to ASHRAE Journal articles on the subject, an ASHRAE online course addresses the role of HVAC systems in infection control in hospitals. "Designing and Operating High-Performing Healthcare HVAC Systems" is a three-hour course that focuses on the design and operation of HVAC systems in healthcare facilities.
"Infection control is a primary purpose of HVAC systems in hospitals," said course instructor, Dan Koenigshofer, P.E., MS Public Health, HFDP, Member ASHRAE. "Although COVID-19 is not considered an airborne contagion, the design and operation strategies described in this course may be helpful during the current pandemic. It appears that COVID-19 can be transmitted through aerosols. The movement and concentration of aerosols can be influenced by the HVAC system. Thus, it's important for hospital engineers to understand the methods to remove and reduce airborne aerosols, using the HVAC system."
The course covers topics including engineering methods to maintain proper temperature and humidity, air change rates and levels of filtration. It addresses the relationship of infection control and HVAC design, including the application of ASHRAE's HVAC Design Manual for Hospitals and Clinics, Second Edition, and ANSI/ASHRAE/ASHE Standard 170-2017, Ventilation of Health Care Facilities.
Koenigshofer is scheduled to teach the online course on April 7. Click here to register.
More ASHRAE Resources
ASHRAE's COVID-19 Preparedness Resources webpage provides resources for building industry professionals and includes ASHRAE's position document on Airborne Infectious Diseases.