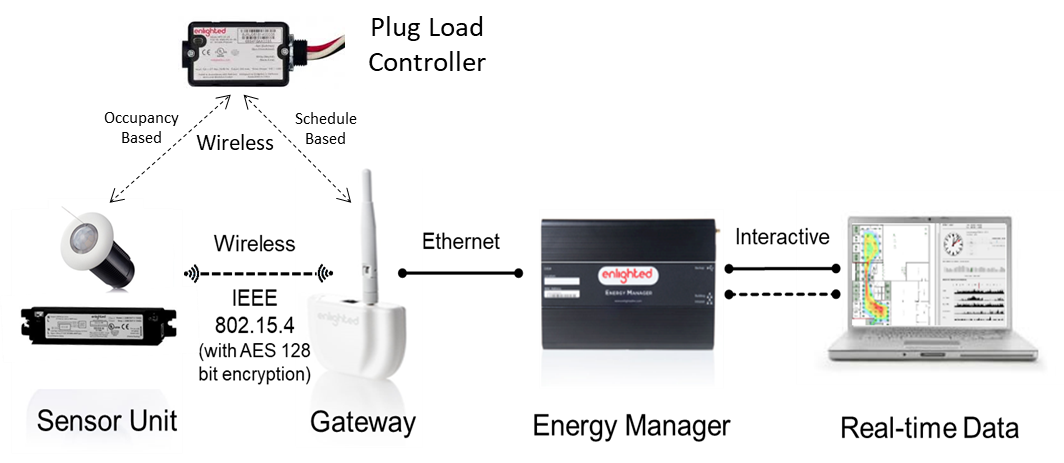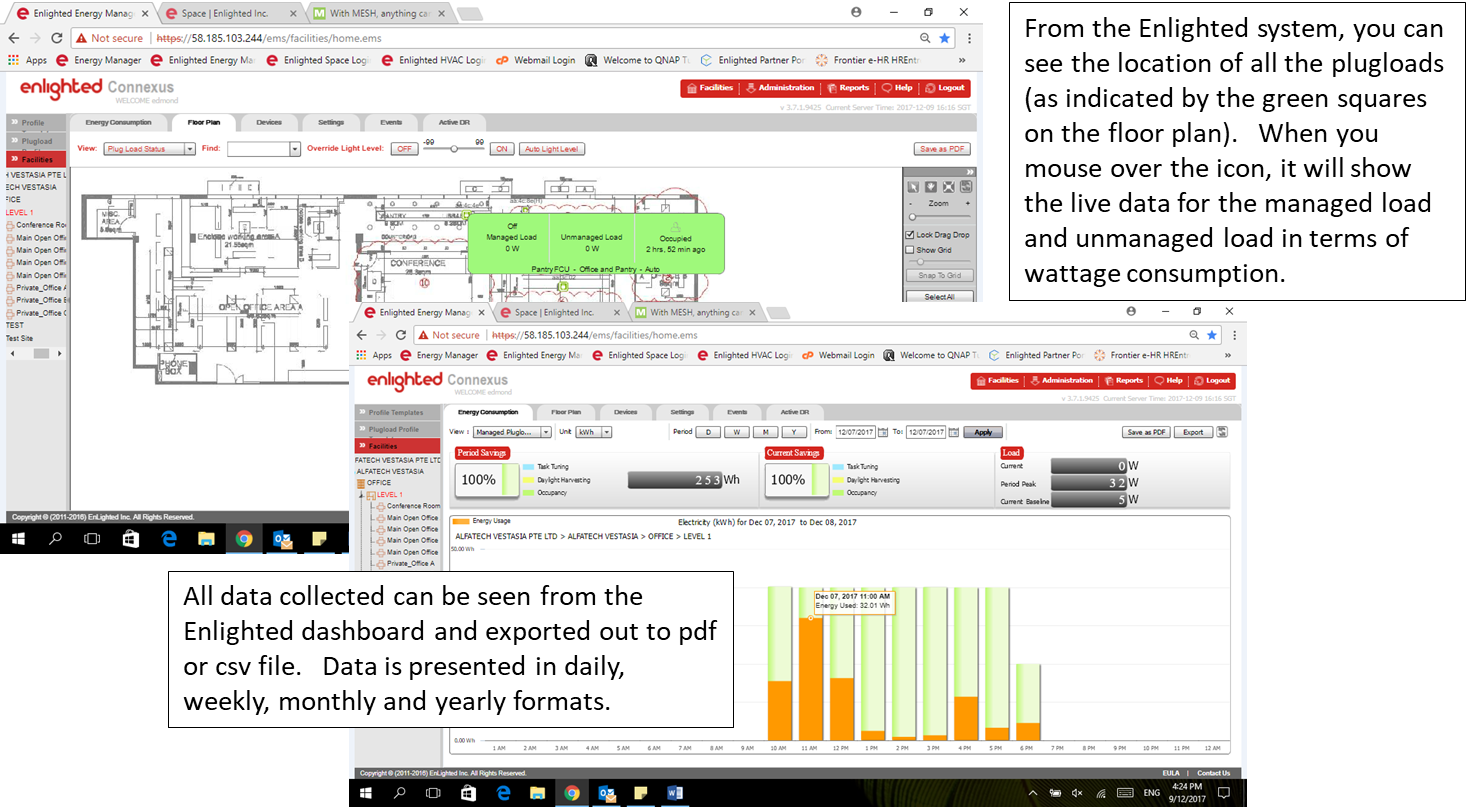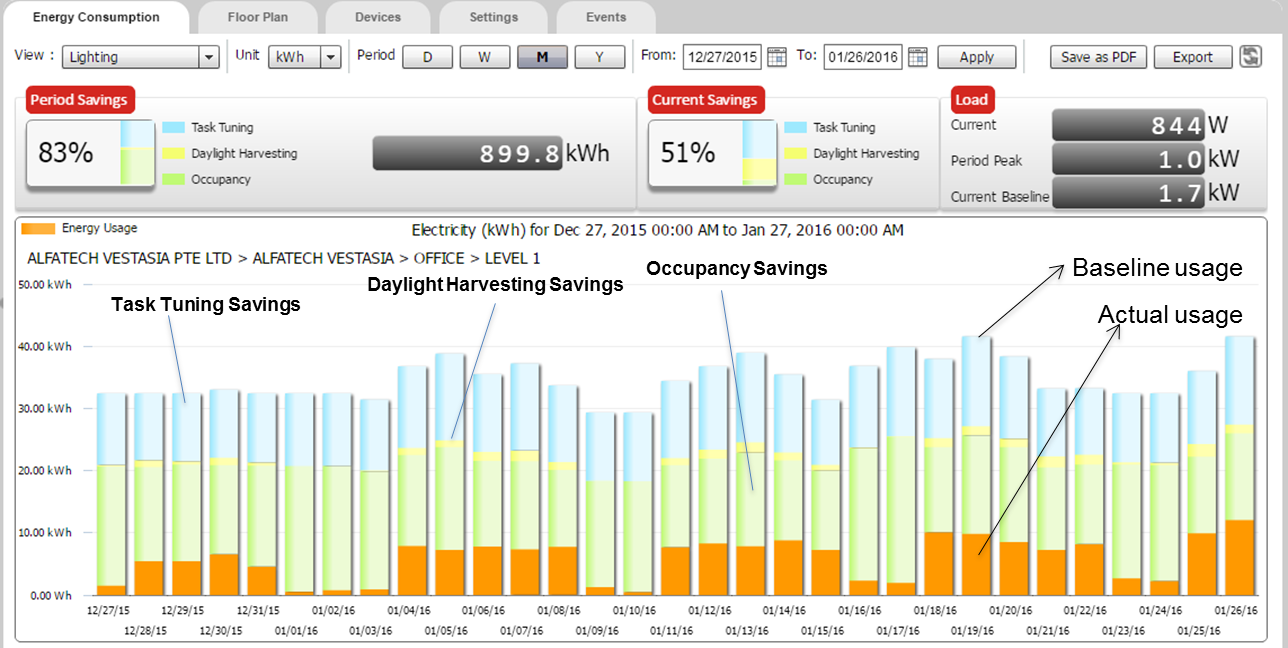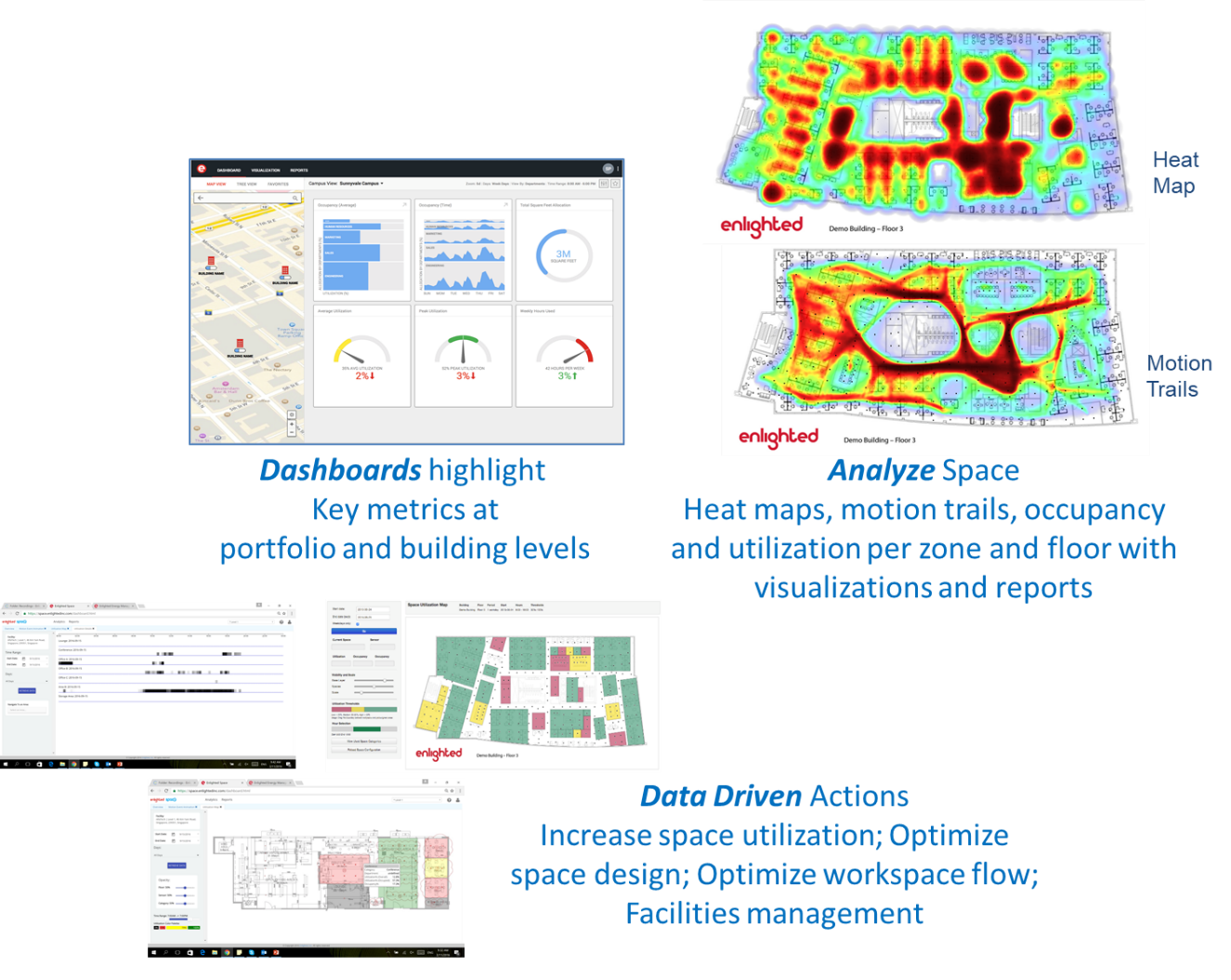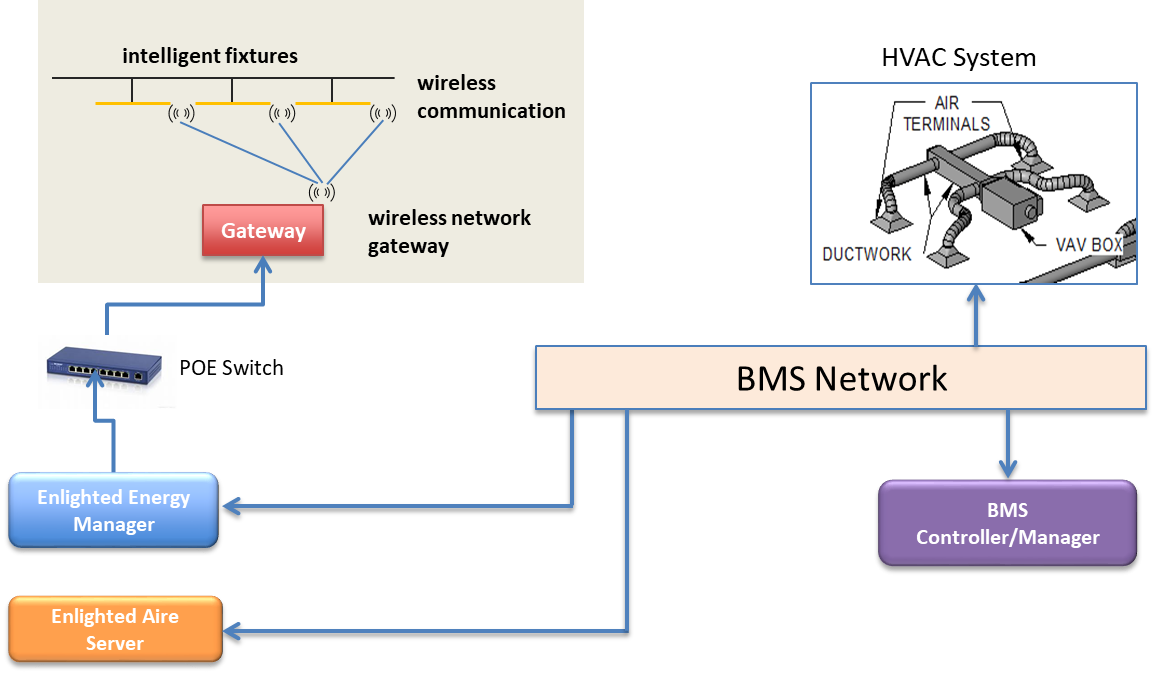 Enlighted Smart Sensor System
Technology Category:

Controls and Operations
Technology Supplier:

Enlighted Sales and Service Pte Ltd
Originated From:

UNITED STATES
Suitability in Existing Building/New Development:

Existing Building , New Development
Suitability Climate Zones

Hot and humid , Hot and dry , Others
Last Update Date

03/20/2019 00:14:27
Technology Keywords

Wireless, multi-functional, IoT device that collects, stores and analyses data
Technology Description

Installation of multi-functional sensors to collect data on space utilization, enabling analysis to be carried out on how well space is being utilized in the building. The wireless IoT sensors, using PIR and motion with special algorithm written, collects 65 data points a second, processes and encrypts the data before sending it back to the server for further processing. The end results are heat maps, motion trails and utilization maps of the building. For the longest time, nobody is able to know how well space is being utilized and if companies are optimizing their space. With the data collected by the Enlighted sensors, companies can now know exactly how their space is being used and how well it is being used.
Estimated First Cost

63.00 S$/sqm
Estimated Life Time

52 years
Estimated Lead Time

2 month
Technology Features

The same sensors can also provide energy management via lighting control, aircon control and plugload control, allowing the user to know exactly how much energy was used and how much energy was saved for each lighting fixture and for every power socket. For lighting control, the sensors can also work with the tunable white LED panels that change colour based on the circadian rhythm. Through this controlling of the colour throughout the day, the system can help companies improve their staff productivity and efficiency. The plugload (which comes with two power meters inside, monitoring the controlled and uncontrolled channels) has the ability to cut off power supply to any load (up to 20A) based on occupancy or time schedule. For occupancy, it is paired with the sensor for control.

Saves energy via lighting and plugloads. For lighting, we save by dimming/off when no one is around (i.e. occupancy saving), dimming when daylight is bright (i.e. daylight harvesting) and lowering of brightness for comfort (i.e. task tuning).
Technology Advantages

- One sensor, multi-functions
- Small form factor
- Data security due to AES 128 bit encryption
- Collects data and does edge processing of data
- Wireless design
Technology Limitation

1. Does not collect and process environmental data such as VOCs and CO2 levels
2. Smaller coverage area of 10m2 due to small form factor
Cost and Benefit Analysis

Estimated First Cost: Basic infrastructure cost for a minimum of 2,000 m2 space is SGD63/m2

Estimated Maintenance & Operation Cost: S$4800/year

Estimated Lifetime: 52 years (lab tested) for the sensors

Design - Sensor placement is the most important element in our system design. Sensor placement takes into account the various features that the customer wants to deploy such as space analysis and lighting control.

Deployment - Setting of the parameters is another important aspect that will ensure proper functioning and optimization of the system. Parameters are set for different space types and users.

Operation & Maintenance - Once set, the system should function properly without any issues. A quarterly healthcheck is recommended to ensure system is running properly without any faults.

------------------------------------------------

List of supporting technologies:

1. Wireless (IEEE 802.15.4)

2. Passive Infrared (PIR)

3. AES 128 bit Encryption

Certifications and Awards

Singapore Green Building Council - Singapore Green Building Product Certification - 2 ticks (Very Good)